Today we are going to help you plan, create, and track law firm website content that gets you:
More visitors to your site
More social media shares
Top rankings in Google search results
But this isn't just another summary of content marketing strategies.
We're going to show you exactly how to create winning content that attracts more visitors to your law firm's website.
Let me give you an example.
Here are the two-month organic analytics for a legal blog we posted: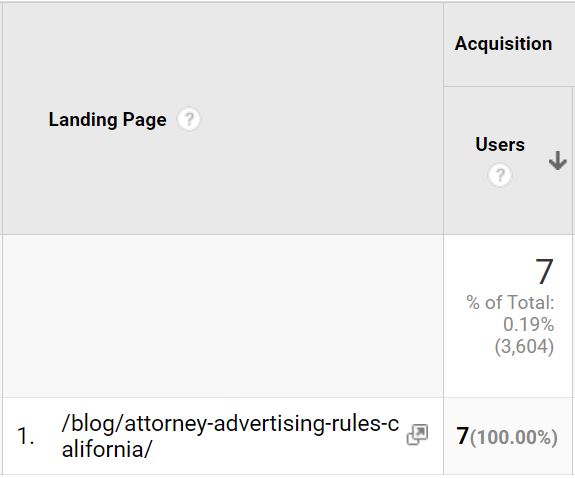 You can see that organic users had already viewed the post, and not too many of them.
That's when we decided to get creative…
Using the strategies listed below, we optimized the blog to be more relevant and engaging to users.
Here's what we saw just a few months later: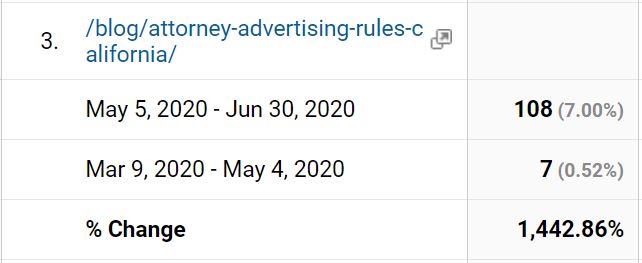 Nearly 1500% increase in users!
So how did we do it?
By creating awesome data-driven website content! Just look at all the ways that truly helpful personal injury copy can set your law firm website apart.
Read on and we'll tell you our advanced techniques for creating law firm website content that performs amazingly.
If you're looking for more than just website content ideas, check out our other proven law firm marketing ideas.


Jump down to a section:
Find a Relevant Topic
We can't stress the importance of this step enough…
If you don't start with a relevant topic, your law firm website content will probably fall flat.
Your article won't appear in Google search or resonate with your audience if it's about a topic that is not meaningful to your intended readers.
Luckily, we're going to show you our proven method for finding relevant legal content topics that your audience searches hundreds if not thousands of times each month.
Let's Borrow Topics from Your Competitors
The fastest way to find legal content ideas is through competitive research.
You can peek at the keywords that your competitors are targeting by using SEO research tools like Ahrefs.
Here's exactly what you need to do to mine your competitors' topic ideas.
Step 1 – Identify Your Competitors
Before you can find out what keywords your competitors are ranking for, you'll need to know who they are.
Ahrefs makes it easy to ID your competitors with their "Competing Domains" tool.
Just plug in your website and Ahrefs will show you all the domains that are competing with you: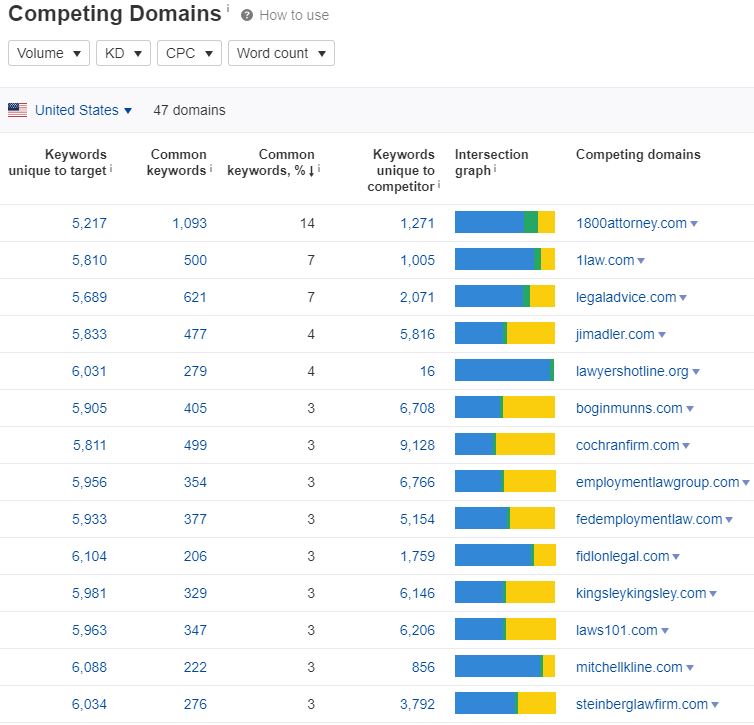 You can see the common keywords you share with your competitors, or better yet, the ones they rank for that you haven't yet tapped into.
Step 2 – Filter to Find Low Hanging Fruit
Now that you know how to find your competitor's keywords, let's zero in on the queries that are easier to rank for.
In other words, let's find low hanging fruit opportunities by using filters.
First, you can filter by monthly search volume. Monthly search volume is a number showing how many times a keyword is searched in a given month. If you choose a volume range that's not too high or low, you'll cut out the high volume keywords that are usually very competitive.
For example, let's filter between 50 and 1000, that way we filter out any keywords with too much or too little volume:

Now let's add another filter to cut out keywords that are too competitive.
Ahrefs uses a Keyword Difficulty score between 0 and 100 to show how competitive a topic is.
In that case, let's filter between 0 and 10 KD to show only keywords with low competition levels:

Now simply export your list of keywords into a spreadsheet, and you're ready for the next step–finding the search intent of your target keywords.
Discover the Search Intent of Your Target Keyword
Once you find a target keyword, it's time to discover its search intent.
The search intent of a keyword means the information or service the searcher seeks when they Google the keyword.
If you can find the exact search intent of the target query, you can cover it in-depth in your content.
Here's why matching search intent is an essential law firm marketing strategy…
If users love your content, they'll share it, and other content creators will, too. Google will notice these citations, which will positively impact your content's rankings.
It's also thought that Google takes note of user experience signals like bounce rate and session duration when calculating the value of content. If your content gives users exactly what they're seeking, these signals will be positive, and the content has a greater chance of ranking higher in Google search.
How to Do Search Intent Analysis
Finding the searcher's intent is your first step toward successful legal content marketing for your law firm. However, to truly win, you'll need to take it a step further with content depth.
Content depth means your legal content covers every possible cornerstone topic AND subtopic the searcher might be looking for information on when they Google your target keyword.
Search your target keyword in Google. Study the content that ranks well. What topics do they cover? Ask yourself how you can add even more value to what they provide.
The more helpful topics and subtopics you cover with expertly written, research-based insights, the more valuable users, and therefore Google, will find your content.
Choose a Content Template
There are a few different types of content to choose from.
The main templates are:
List
Landing page
Case study
Ultimate guide
The template that's right for you depends on the search intent of your topic.
For example, the keyword "car accident lawyer" will require a landing page template geared toward sign-ups.
On the other hand, the keyword "what to do after a car accident" demands a guide-style blog.
In other words, once you find out the search intent of your keyword, you can decide which template is best suited for the topic.
List
Let's begin with the topic "advice for winning a personal injury case."
When people search this topic in Google, they want tips for strengthening their case.
The more tips you offer, the more value readers will find in your content. So you'll want to create a numbered-list blog like this:

And don't forget to add more tips than your competitors. Users are more likely to click on your article from the search results pages if they know you have 18 tips but your competitor only has 10.
Landing Pages
Now take a topic like "car accident lawyer."
This is a more transactional topic, meaning people don't search it to learn. They search it to find a lawyer.
So in this case, you'll want to create a landing page that's geared toward acquiring signups.
Here are some proven tips for creating a landing page that converts better:
Target your page correctly. If your topic is "car accident lawyer", make sure your content is about that topic so users are satisfied, not confused when they arrive at your page.
Optimize for mobile devices. Only 50% of landing pages are mobile-friendly, even though Google de-ranks sites that are not.
Place important content at the top of the page. You only have 8 seconds to make an impression. Make it clear what you offer, and how people can sign up.
Your landing page should show potential clients what your law firm has to offer, and make it easy to sign up if they're interested in learning more.
Case Study
Case studies are a great way to offer advice to potential clients while gaining trust in your practice.
If you can show potential customers exactly how you won that big case for your past client, they'll be more likely to hire you as their lawyer.
Want to know how to write the best case study?
Reach out to your happy clients. Ask them to contribute and explain how you helped them.
72% of customers say that testimonials increase their trust in businesses. The same will go for your law firm.
Ultimate Guide
Most guides summarize how to do something. Ultimate guides go into detail.
Furthermore, ultimate guides not only cover the basics, but offer advanced tips.
Take for example the keyword "how to file for workers comp."
The top-ranking legal content for this topic not only lists the steps for filing for workers comp, they go into great detail about the process.
With an ultimate guide, you can satisfy users who are looking for a straightforward how-to.
That satisfaction will translate into improved user experience signals, which will lift your rankings.
Pick an Engaging Title
Your headline is the first thing potential clients see in the search results. The more engaging and relevant that headline is, the likelier people are to click over to your content.
Start Your Title With These Phrases
The importance of your headline can't be exaggerated. The more engaging your title is, the more clicks and shares you'll enjoy.
Take for example this study by Buzzsumo. They looked at 100 million titles on Facebook to find out which phrases get the most shares.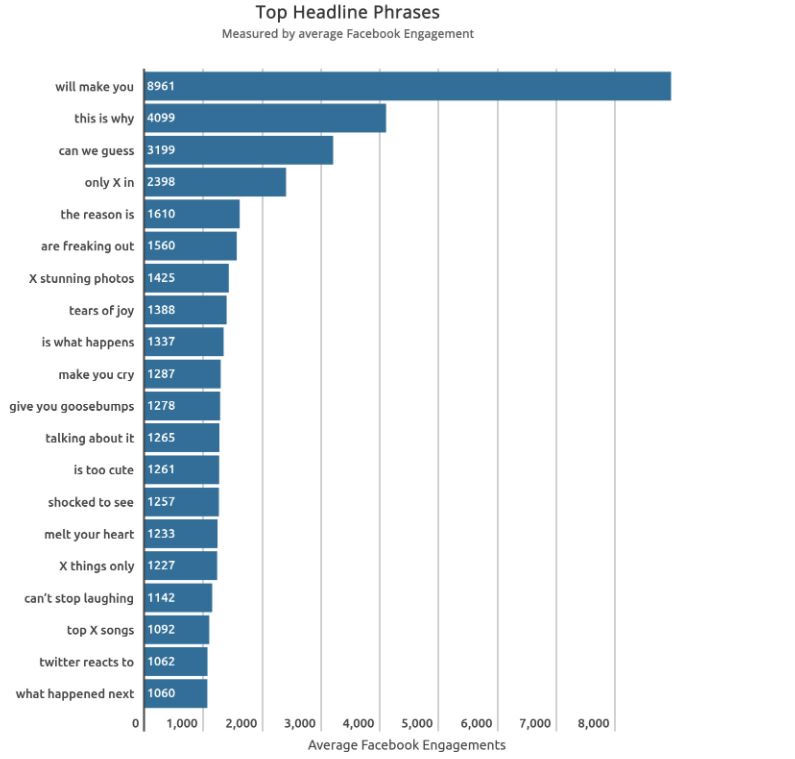 As you can see, the phrase "will make you" is two times more likely to engage users than the next-best headline.
Why?
Because the title promises to have a direct emotional impact on the reader, enticing them to read on.
Just look at the difference between these two titles:
How to Prove Disability Discrimination
10 Proven Ways to Prove Disability Discrimination
You're probably more engaged by the second title because it tells you why you should care about the content.
The second title also appeals to the emotions of the intended audience, who are likely seeking relief and guidance during their legal struggles.
In short, ask yourself what people are looking for when they search the topic in Google, and make sure the title promises to deliver what they need.
Add Meaningful Images Every 300 Words
Nielsen research shows that users engage with website images that are relevant to the topic.
By placing a relevant image every 300 to 500 words, you can ensure that as the reader scrolls down the article, there's never a frame in which there's no visually stimulating content.
The longer you keep your website visitors on your webpage, the better your content will perform in the search results.
Another study shows that captions are read 300% more than the body of the content, so make sure to use captions to double down on the main point you're trying to make with the photo.
Make Your Legal Website Content Easy to Scan
79% of users scan pages rather than read every word like they would with a novel.
In fact, web users tend to read the first few sentences, and then scan more vertically for what they're seeking: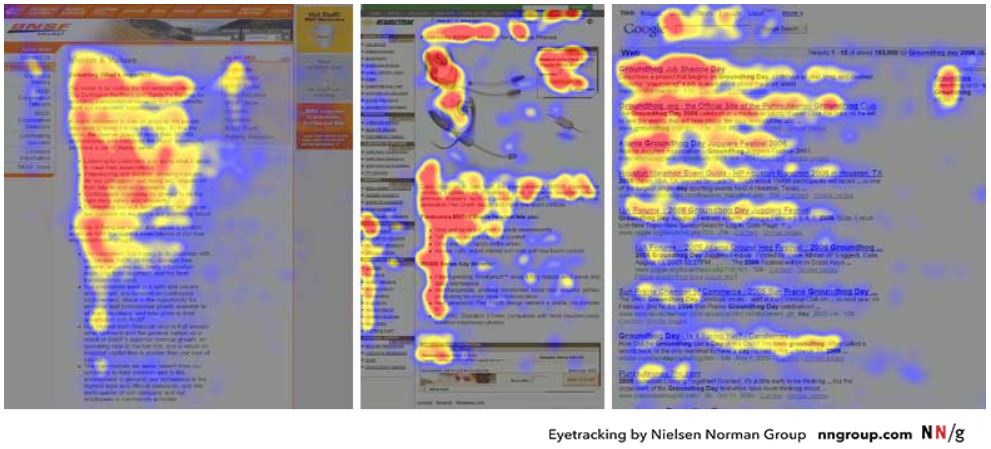 That means don't use huge blocks of text. If visitors can't easily find the information they seek, they are much less likely to stick around.
Break your text into smaller paragraphs or even single sentences, leaving white space between each block of text.
If you want to go even further, divide the content into sections using headers, that way users can easily scan through to find what they're looking for.
Each header should clearly tell the user what to expect from that section.
Wait… Did You Make Sure to Track Your Performance?
Here's an important thing to remember about your law firm website content…
It's a work in progress. You're not always going to get it right the first time.
Once you publish your article, there will likely be areas to improve upon.
If you don't track the performance of your law firm's content, you'll never identify these opportunities for improvement.
Step 1: Add a Tracking Code
Before you start creating content, you should make sure your Google Analytics account is set up for tracking.
Google Analytics is a free tool you can use to track the performance of your content.
First, you can use this platform to measure growth in terms of website visitors.
Secondly, you can look at user experience signals like bounce rate, session duration, and conversion rate, all of which will help you improve your content's performance.
Whenever someone visits your legal website content, Google Analytics will record their experience. You'll know whether they're satisfied, and if not, you can use the data to improve upon your content.
Step 2: Audit your website content
Now that your content is live, it's time to look into the user experience signals that tell you if visitors love what you wrote.
If you can find out what's leaving users dissatisfied, you can update your content so they'll absolutely love what they read.
Here are the main key performance indicators you want to keep an eye on:
Bounce Rate – The percentage of users who bounce off your website. As a rule of thumb, if your bounce rate is higher than 50% you might want to find out why and update your content.
Session Duration – The average length of time spent on your website. A super short session duration usually means visitors don't like what they see.
Conversion Rate – The percentage of users who sign up to speak to your law firm.
Once you start tracking your law firm content for a month or so, you can begin finding weaknesses to work on.
For example, here you see bounce rate has increased, while pages per session and average session duration have gone down: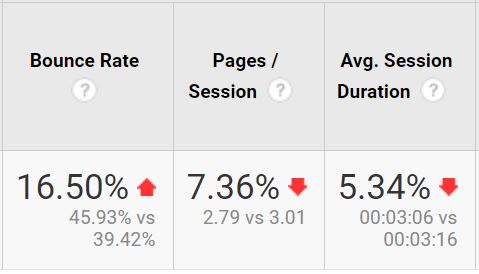 These metrics indicate that users aren't engaging positively with your content like before. So now you can identify any recent design or textual changes that may have caused this decrease in user value, then improve your content. That's the power of tracking!
Step 3: Study Your Heat Maps
Let's say your law firm website content has a high bounce rate and short session duration.
You know that something about the content is turning users away. But you don't know exactly what the problem is.
That's where heat maps come in.
Heat mapping is a data analysis tool that uses color to visualize actual user behavior on your web page. Like this: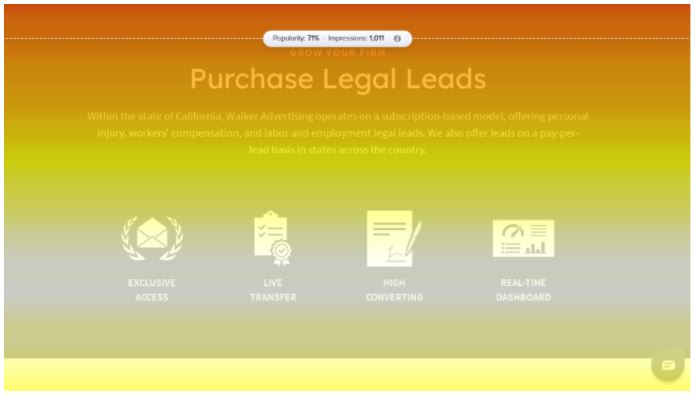 Warm colors show where people are stopping to read, i.e. what content your users are most interested in.
Colder colors show you the areas that users are scrolling past with no interest. These areas can be removed or updated to be more interesting to users.
Heat mapping eliminates guesswork so all of your design decisions are based on data, which will improve your law firm website content's performance.
What's Your Next Move?
Now that we've shared our proven strategies for creating winning law firm website content, what will your first move be?
We recommend starting with competitive research to find relevant topics. And don't forget to add a tracking code to your web pages so you can always find ways to improve your law firm website content if need be.
Good luck!